Milonga is the place to dance Tango, Milonga and Vals. We embrace each other and get back the time.
Respecting the french ;o) drive rules, we dance on our right and take care about the distance with the other dancer.
Respecting the manners rules, try to be the best dancer partner with a well-dress and well-smeling.
A bailar!
---
ALL THE MILONGAS AND PRACTICES ARE ON THE WEBSITE tango-argentin.fr
---
PRACTICES Every MONDAY from September to end of june
Tango practice « CHA » from 12:15 p.m. to 2:15 p.m.
Centre André Malraux
112 rue de Rennes – 75006 Paris
Price: € 5 or € 3 for members
Membership € 20. Validity: to september
PRACTICES Every FRIDAY from September to end of june
Tango practice « CHA » from 2:15 p.m. to 4:15 p.m.
Centre André Malraux
112 rue de Rennes – 75006 Paris
Price: € 5 or € 3 for members
Membership € 20. Validity: to september
---
ON FRIDAY, JULY 6th, 2018 from 7.00pm to 10.00pm at City Hall Paris 6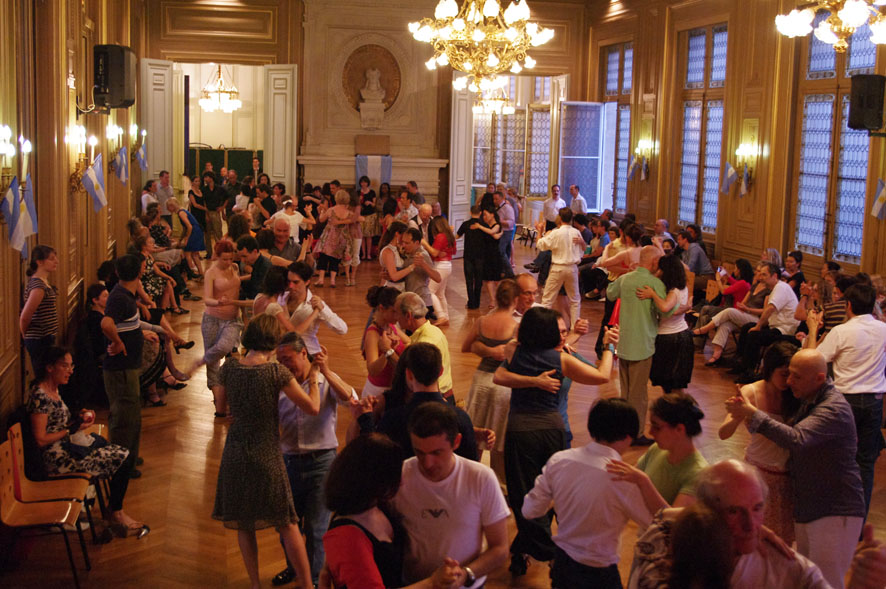 Salle des fêtes de la Mairie du 6ème
78 rue Bonaparte – 75006 Paris
Free entry subject to available space
Demonstration with Charlotte Milllour and Maximiliano Colussi

Contact us
---