Charlotte Millour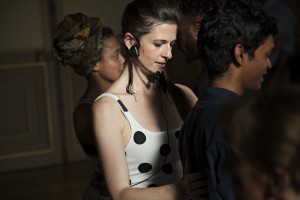 I discovered tango in 2007 during my first trip to Argentina. I decided my retraining as tango dancer in 2009, through the teaching of Oscar Arce, my dance partner till 2010.
Together, we represent in various milongas and festivals in Argentina, especially in September 2010 at the International Congress of Tango in Mendoza.
In early 2011, back in Paris, I taught at Step Dance and Smoking & Brillantine schools, organize practices in Paris, intensive courses in France. I'm also called as a DJ in various milongas in Paris: La Cumparsita, Le Chantier, in my own milonga Tango Cha, The Parloir, Esprit Tango …
I organize since 2012 , various exceptional Milongas at Mairie du 6ème in Paris (City Hall).
Since 2017, I work with Maximiliano Colussi, from Cordoba, Argentina:
My particularity, my strength, is that I guide as much as I "follow" :
As a teacher and dancer:
Since 2013 : I give Tango class for people with physical disabilities and I participate to the Mois Parisien du Handicap. I also gave classes for women with breast cancer in 2018 for Cognacq Jay Fundation.
Since 2012 : Still teaching in Paris, organizing exceptional Milonga at Mairie du 6ème…
2012 : I open a new class for people with a physical disability like Parkinson.
2011-2012 : professor at the School of Dance and Step Dance & Smoking Brillantine in Paris.
2011 : organization of training Milonga with Lucia Mirzan in Paris.
2010 : assistant and Oscar Arce partner: private and wekly groups classes in Buenos Aires and Mendoza, demo in Mendoza and San Juan in Argentina: The Terminal, Las Sillas, San Juan Resto-Bar, Pipistrela Theatre, Pedro Molina Guaymallen, Modern Hotel.
Training:
Over groups and individuals classes, workshop:
– Salon – milonguero: Oscar Arce, Fernanda Japas & Alberto Sendra, Via Silvio, Ana Carina Calderon & Marco del Forno, Gabriel Glakovski con Carlos Perez, Thierry Le Cocq Alessia Lyndin.
– Milonga con traspié: Oscar Arce, Gustavo Chidichimo Martorani & Virginia.
– Tango Nuevo: Oscar Arce, Luciana Valle, Dina Martinez, Valencia Batiuk, Norberto "Pulpo" Esbrez & Stephanie Lee, Gisela Natoli & Gustavo Rojas, Mariangeles Caamaño & Bruno Tombari.
– Musicality: Oscar Arce, Mariangeles Caamaño & Bruno Tombari.
– Show: Oscar Arce, Claudio Gonzalez & Melina Brufman, Carolina Bonaventura & Francisco Forquera.
– technical women courses: Oscar Arce, Carolina Bonaventura, Graciela Gonzales.
– Contemporary: Luz Mariela Ruggieri.
– Classic: Marcos Verzani, School Janine Stanlowa, Priscilla Noël.